327
PROGRAMS & SERVICES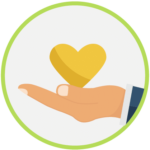 10,000
PEOPLE SERVED EACH YEAR
500+
LOCATIONS IN MA & CT
Provide quality services that support and empower people we serve and their families to improve their lives.
Create a supportive work environment where knowledgeable staff are committed to the people we serve.
Promote innovation, advocacy, and collaborative partnerships to advance knowledge and services in integrated care.
Be financially stable in the service of our mission and provide value to our funders and the people we support.
PROGRAMS/SERVICES
and number of people served
COMMUNITY-BASED MENTAL HEALTH
145 PROGRAMS

Adult Community Clinical Services (ACCS): 2283
Clubhouses: 772
Competitive Integrated Employment Services (CIES): 138
Homeless Services: 215
Mass Mental Health Clinic Services: 800
Program for Assertive Community Treatment (PACT: 293
Recovery Connection Centers (RCC): 185
Representative Payee: 594
Transition Age Youth: 383
INTEGRATED CARE
7 PROGRAMS

Behavioral Health Community Partners: 2968
Community Support Program (CSP): 82
Flex Services: 700
LTSS Community Partners: 140
One Care: 900
BRAIN INJURY*
18 PROGRAMS

Adult Long Term Residential: 64
Brain Injury Community Center: 17
Individual Supports and Community Habilitation: 5
Outreach and Community Supports: 25
SHIP In-Home Supports: 3
*Also qualified to provide Shared Living and Transportation services
BEHAVIORAL HEALTH
2 PROGRAMS

Vinfen Behavioral Health Lawrence: 241
Vinfen Behavioral Health Lowell: 566
INTELLECTUAL AND DEVELOPMENTAL DISABILITY
115 PROGRAMS

Day Services.: 458
Individual Support Services (ISS): 148
Emergency Residential Services: 9
Family Supports:353
Autism Support Center: 180
Individual Home Supports: 43
Representative Payee" 223
Residential: 326
Shared Living: 2
VINFEN CONNECTICUT
40 PROGRAMS

Intensive Residential Services: 28
Residential Community Living Arrangements: 45
Continuous Residential Supports: 38
Individualized Home Supports: 15
Day and Employment Services: 101
Representative Payee: 109